Saturday, September 27, 2014
The Most Wonderful Time of the Year
It's that three week period of pure joy - when neither the air conditioner nor the furnace is running and the house is cool, comfortable and, most importantly,
quiet
.
Labels: fall
(0) idle chatter
Thursday, November 14, 2013
Zombies and Cthulhu and 10 year olds. Oh. My.
We, once again, catered Alex's class Halloween party.
That includes some sort of game and/or activity.
In the past, we've had them decorate sugar skulls and paint Day of the Dead skull magnets.
But this year, we figured they were old enough to skip the craft and go straight to the games.
Dice games.
Zombie Dice
and
Cthulhu Dice
.
Which they
loved
.
Boo. and Yah.
(0) idle chatter
Friday, October 29, 2010
(0) idle chatter
(0) idle chatter
Friday, October 08, 2010
(0) idle chatter
Tuesday, September 14, 2010
A Few Paragraphs
You really can't sum up almost 90 years in a few paragraphs. He was a fascinating man, more friend than grandparent.
Daniel Allan Bunn, 89
PENNSYLVANIA, Sept. 14 - Daniel Allan Bunn, 89, passed away at Mt. Laurel Nursing and Rehabilitation Center, Clearfield, PA on Sunday, September 12, 2010, following a brief illness. He was born January 23, 1921, North Tonawanda, NY, a son of Allan E. and Mary Ann Speares Bunn. He was a former resident of St. Marys, PA, and most recently of St. Michael's Terrace, DuBois, PA, and at Mt. Laurel Nursing and Rehabilitation Center for the past three months.
He married Mercedes Fodge in St. Marys, PA, on December 12, 1940 and Dolores Moore Herzing in Emporium, PA, on October 24, 1990.
Mr. Bunn is survived by a son, Richard W. Bunn and wife, Patricia of Bedford; daughter, Tommajean Bunn Young and husband, Thomas of Emporium, PA; grandchildren, Jennifer Bunn Surface and Angela Bunn, both of Bedford, Stephanie Bunn and husband, Matt Riggsby of Knoxville, TN and Christine Young of Emporium, PA; great-grandchildren, Logan Bunn, Chelsea Osti, Alex Riggsby, and Shey Pifer; half-sister, Yolande Josephson of Rutland, SD; brother-in-law. Bernard Moore of Benezette, PA; step-children, Joyce Herzing Gerg and husband, Bob of Abbeville, SC and family and David Herzing of Emporium, PA and family. He was preceded in death by his parents, first wife, Mercedes Fodge Bunn in September, 1986, second wife, Dolores Moore Herzing Bunn in May, 1995, son, Jon A. Bunn in September, 1973, grandson, Daniel J. Bunn in May, 2007 and step-brother, Ray Lukehart and wife, Marie.
Mr. Bunn served as a Sergeant in the US Army Corp of Engineers during WWII. He had been co-owner, with Ralph Tenner, of St. Marys Wood Specialty Company, St. Marys, PA in the 50s. After starting with Stackpole Carbon Company, St. Marys, PA in 1957, he worked for them in Johnsonburg, PA, Farmville, and St. Marys, PA until retiring in 1983. He had been a member of the American Legion, Bennets Valley, PA.
He was an avid fisherman, licensed amateur radio operator, and had continued custom carpentry work until he was in his seventies.
A private memorial service will be held at a later date.
Memorials may be made to DuBois Ambulance Association.
Barnett Funeral Home, Pennsylvania, is serving the family.
(2) idle chatter
Thursday, September 09, 2010
They're going to force me to create a tumblr account...
Because it's the only way I can properly tell people like Erica at
Purple Rain
how much I enjoy their posts.
I'm a Huntress fan, as you may have figured out, so when I found her Helena-centric tumblr I was thrilled. She has good insight into Hel's personality, the things that drive her & make her who she is today. Erica also posts a lot of older Huntress material, which for me is an absolute treat. (And for Amazon.com, free sales marketing!)
But today, when I saw she'd created a video (based on a book I often recommend, Ivory Madison's Huntress: Year One) which beautifully and
heart-breakingly
tells the story of the Bertinelli family massacre, I knew I had to do, say, something to thank Erica for what she does.
So Erica, I don't tumblr (yet), but I stop by yours daily. I look forward to the visits, & either nod my head in agreement or cheer on something you've brought up. Today, I cried. Excellent job. I thank you.
Even if you don't like comics, you can't help but
feel
the emotions here. The art is beautiful, the tale tragic.
(0) idle chatter
Tuesday, September 07, 2010
HAPPY BIRTHDAY!!!
To Renee Montoya!
aka The Question.
Oh...& to me, as well!
(2) idle chatter
Sunday, September 05, 2010
Recent Reads
No reviews right now, but a list of what's been piling up. In no particular order:
Invincible Iron Man: Stark DisassembledIron Man: ExtremisThe Invincible Iron Man: OmnibusBatman: Officer DownThe New Avengers: IlluminatiFinal Crisis: RevelationsI am an Avenger #1Secret Six #25Red Hood: The Lost Days #4Batman #702Deadpool: Pulp #1Wonder Woman #602Brightest Day: #9Wolverine #1Wolverine: Road to Hell #1Adventure Comics #516The Return of Bruce Wayne #4Gotham City Sirens #14Brightest Day: Green Lantern Corps #50Wolverine: Origins #50Wolverine: Weapon X #15Secret Six #24Red Hood: The Lost Days #3Brightest Day #7All-Star Squadron (Crisis On Earth-Prime: Book Two) #14Justice League of America: Wedding Special #1Booster Gold #35Zatanna #4X-Force: Sex & Violence #2X-Men: Curse of the Mutants #2Adventure Comics #517Superman #702Brightest Day: Green Lantern #56X-Force: Sex & Violence #1Superman #701Gotham City Sirens #15The Heroic Age: The Avengers #4Batman: Detective Comics #868Brightest Day: Justice League of America #48Brightest Day: Green Lantern Corps #51Batman: Streets of Gotham $15Brightest Day #8Wolverine: Weapon X #16Justice League of America: 80-Page Giant ('09)Brightest Day: Green Arrow #3JLA-Z: A Guide to the World's Greatest Super-Heroes #2; Green Lantern to The Lord of TimeBrightest Day: Justice League of America #47Batman: Detective Comics #867Brightest Day: The Flash #4Brightest Day: Green Arrow #2
Also,
Sue Grafton: U is for Undertow
.
Oops; forgot these.
Showcase '93: Huntress #9 & 10The Huntress Stalks Catwoman #51Black Canary & Oracle: Birds of Prey: #1Black Canary & Oracle: Birds of Prey Manhunt #2-4
(0) idle chatter
Saturday, September 04, 2010
Oh...my
This is sexy. Anyone know where it's from?
I
do
love those Hawks.
(0) idle chatter
Friday, September 03, 2010
I must be lazy
(it took another two weeks to finish this!!)
Or maybe I'm creating more work for myself.
Instead of moving the DC meme to the current date, I'm just picking up where I left off & starting a new thread.
Right, so while I
should
be sleeping & preparing for the
FIRST DAY OF SCHOOL!!!!!!
(ehem, not that I'm excited for this or anything), I'll instead think & write about comics.
Day 30: Build your dream team of five characters
.
Zatanna, Black Canary, Wonder Woman, Huntress, & Hawkgirl.
Day 29:
Favorite Not-so canonical Romance
I admit it, I'm a Bruce/Zee fan.
I know a lot of people focus on this.
But I like to point back to this (I used it earlier, too)
Day 28:
Favorite Canonical Romance
: Aw, not this is both easy & difficult. Because I have a
couple
few.
Notice how many of these have been ripped apart by deaths? Stupid comics; let them be happy!!
Ralph & Sue Dibny
How adorable were they? Loving couple. Really happy. So, of course...back-story a rape & toss in a brutal murder, then let the other one more or less go crazy with grief. Nice.
Barry & Iris Allen
Ok, I admit I do sort of like the Barry/Zee idea, but Flash wives are special. And I
like
them together.
Rick Tyler & Jesse Chambers
I'm not as well-read when it comes to the JSA, but what I do know of this couple...they do love each other. And can be pretty darn cute together. Or, in instances like this...
hot
.
Barda & Scott Free
I think by now my Scott/Barda love is established.
Vic Sage & Helena Bertinelli
It didn't last long. But I truly believe it could have been good...for both of them.
...I should probably stop now.
Day 27:
Favorite Origin
: I think I'm a Silver Age-r when it comes to origins, for the most part.
Zatara
As a child, he was given a magic kit by his uncle. Despite much practice, he didn't do very well. He came upon* some diaries belonging to Leonardo DaVinci (a distant relative), which he realized were written backwards & by saying the words in that manner, he could create actual magic. When a small fire broke out during a performance, he used this new-found ability to put it out & the audience loved it...thinking it was part of his act.
Zatara continued to use 'real' magic in his shows, as well as a means to fight crime, both street- & meta-level.
*
it should be noted that, depending on whet you're reading, Zatara was in fact directed to those books by Nomo, or Dr. Mist. He was orchestrating Zatara's entire life, including his encounter & subsequent marriage to Sindella, with the ultimate goal of Zatanna's birth...who was supposed to be the perfect Homo Magi. Yeah; it's complicated
.
Day 26:
Least favorite DC "other media"
: I...don't know? Oh. Yes I do. How about "Superman Returns" & all the pre-Nolan Batman films?! Or the Birds of Prey live-action series. Yes; that's what I'll go with.
Day 25:
Favorite DC "other media" (movie, cartoon, etc)
: DC Animated Universe. Specifically, the work of Bruce Timm.
I think my biggest introduction to comic book characters (remember, I'm a late-bloomer) came from watching the Justice League cartoon. From there, I learned about the Batman & Superman series. I, um, now own all of them. As well as the Batman Beyond series. And what little Static Shock has been released.
The movies that have come out since those shows ended haven't always been a huge success in my book, but the Superman/Batman: Public Enemies & Hal Jordan: First Flight as well as the recently-released Under the Red Hood have been fantastic.
Kevin Conroy will
always
be my Batman!
Day 24:
Least Favorite Costume
Heh. Must hold back bitchiness.
Starfire

It's just...ugh. Stupid.
Dr. Light (the evil one)
I think it's the helmet.
Day 23.
Favorite Costume
Batman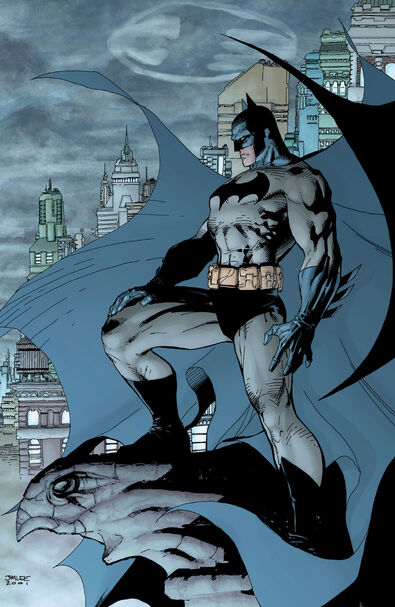 Fear is one of his most powerful weapons. In that suit...yeah, I'd be afraid of him, too.
John Constantine (is that cheating?)
Trenchcoat, suit...& a cigarette. Hello, sexy bad boy.
Zatanna
She's had several costume changes over the years (the bug head-dress, anyone?), but she always comes back to the tux & fishnets. It's classic, it's stylish, & fits her life. She's a performer, she's trying to make her dad proud. Just remember:
never
mess with the hat.
The Question(s)
A bit of noir, some mystery...& the hat/coat combo is classic. The 'you don't have a face!' part helps, too.
(0) idle chatter
What About You?
John Cleese & Free Range Studios team up to help aquatic life. What will
you
do?
(0) idle chatter
Sunday, August 29, 2010
Being Art-y
Despite some...unhappy...things going on, I've actually been drawing again.
No, I'm not going to win any awards, but it's been kind of fun.
Here's one I did today.
(0) idle chatter
Saturday, August 28, 2010
The First Annual International Read Comics in Public Day
We were out. We took our comics with us. We read them, there, in public. We took photos as proof.
Alex says it's a sad tale, but it starts out funny.
Matt reading a tale of a sweet Englishman who
loves
helping people.
(that's sarcasm, folks)
Your friendly blogger, hiding behind some early Birds of Prey.
Stop by
Women Read Comics in Public
for more photos of...you guessed it!...women reading comics in public.
(0) idle chatter
Friday, August 27, 2010
You Know You Want To
Read comics in public, that is.
Tomorrow is
The First Annual International Read Comics in Public Day
, created by the folks at
The Daily Cross Hatch
.
Pretty simple concept. Reading comics is not something to (only) do huddled in a corner of your house or apartment. No, comics are literature. A comic book is the work of creativity, of art. Writers, artists, letterers, inkers, all this takes talent.
Granted, not every comic book presents some earth-shattering story, but comics address politics, race, sexuality, family dynamics...everything you see on the evening news.
They're topical & relevant. So what if the stories being told happen to involve people with powers or abilities? Or who dress in...brightly colored spandex?
Comics are books. They can be thought-provoking. They can be entertaining. They are discussed, debated & defended with as much passion as current US policy.
And I read them.
Tomorrow, I will be reading a comic book while out shopping & running errands. In fact, Matt & Alex will be doing this as well. We'll be taking pictures of this.
And that picture of me, reading a comic, will be shared with
DC Women Kicking Ass
& a tumblr created just for the event.
So Saturday, go ...somewhere. Anywhere. Bring a comic, & a camera, with you. Take a picture. Share with the world that comics are awesome. I'll see you out there.
(0) idle chatter
Thursday, August 26, 2010
It Shouldn't Need to be Said...
But it does. And this is a
damn
good way of doing it.
NO woman asks for it.
(0) idle chatter
Tuesday, August 24, 2010
Action Figure Theater
A collection of (occasionally) amusing hero-based scenes.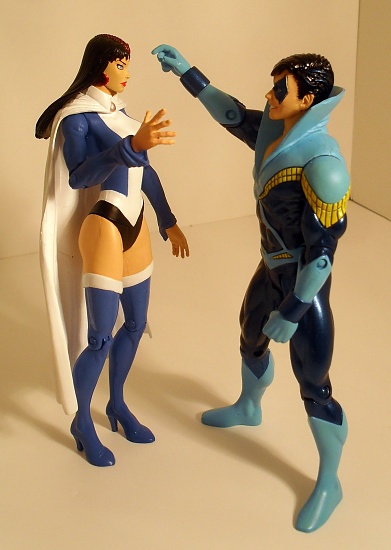 "C'mon Zee; you had a
bug
on your head!"
"…Shut up,
Discowing
."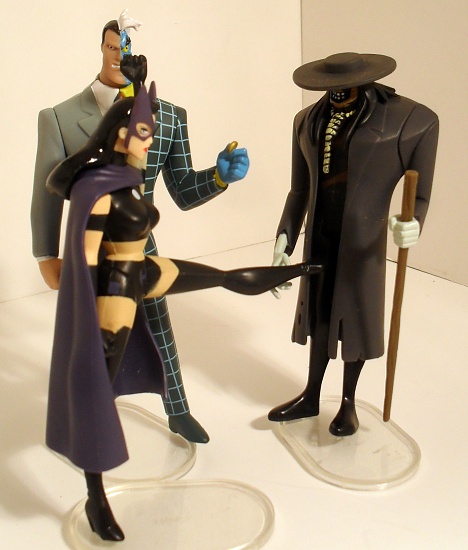 Huntress proving her kick ass-ness.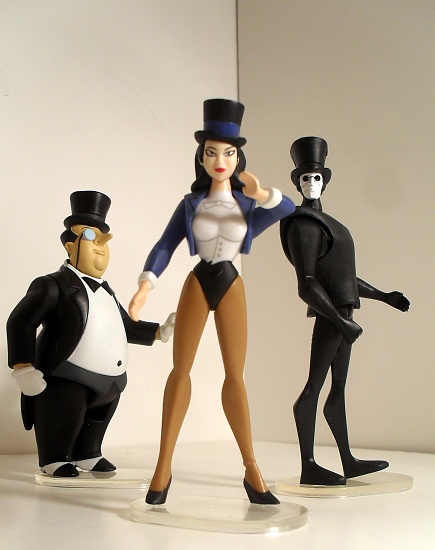 "'I'm puttin' on my top hat, tyin' up my white tie, brushin' off my tails.
I'm dudin' up my shirt front, puttin' in the shirt studs, polishin' my nails...hit it, boys!"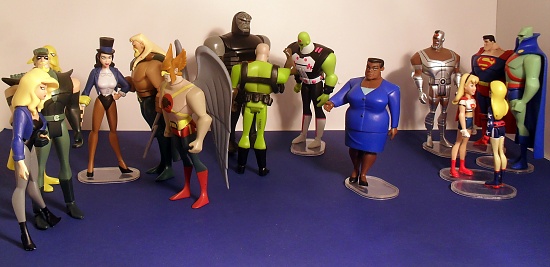 Amanda Waller: "Alright, everyone! Gather in a circle; it's time to discuss this evening's episode of Smallville. Hawkman, you begin. Thoughts?"
Post-show meet-up.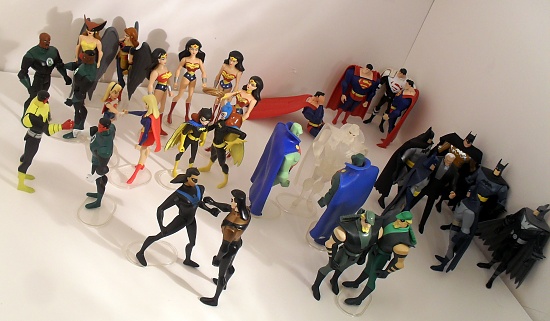 "Alright, who ordered a Crisis?!"
Confusion on Multiple Earths.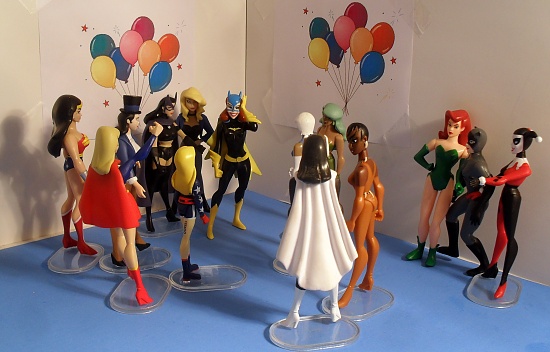 HAPPY BIRTHDAY, BATGIRL!!!!!
"Aww, you guys..."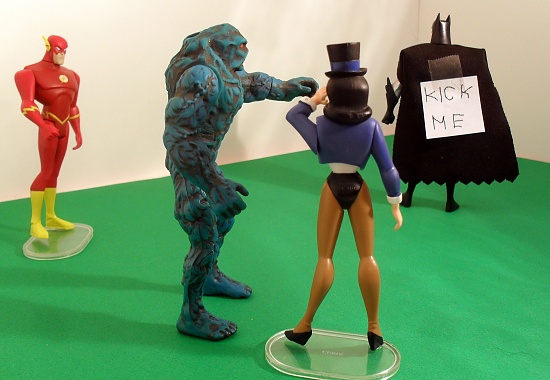 Z: "Batman, wait! Alec, we have to tell him."
ST: "...Yes. ...I...suppose we...do."
Z: "You're *terrible*."
And Flash got three months monitor duty.
"Ted! Buddy! What happened?!"
Because the world needs more Booster Gold & Blue Beetle in it.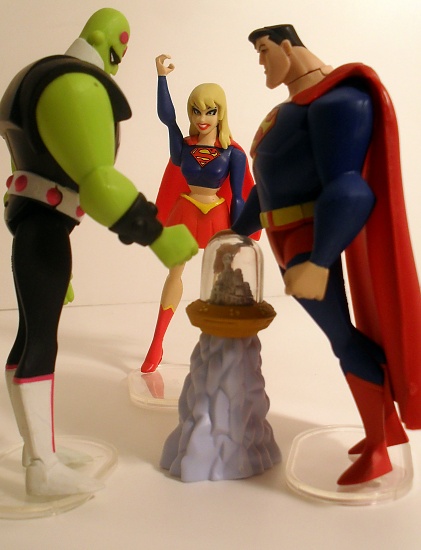 "MINE!" "No, it's Mine!"
"OMG you guys, don't *make* me call a time-out."
Kara plays referee for Kandor.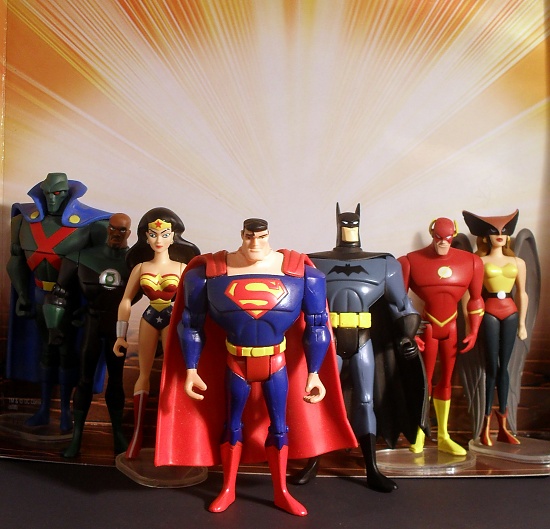 Justice League Unlimited
...cue music.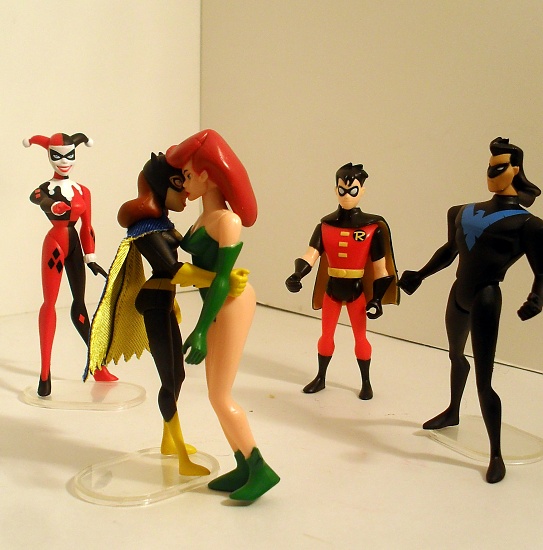 "Those must be
some
pheromones!"
Oh, my....Batgirl.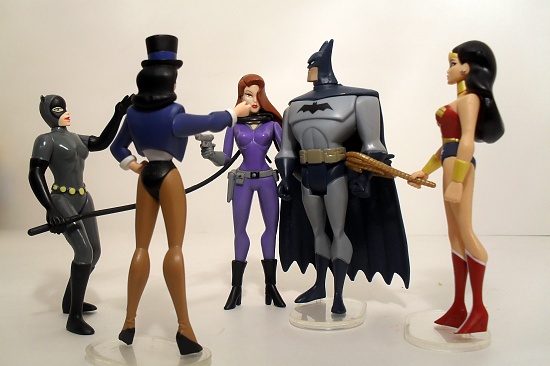 "Let me guess. I forgot your birthdays?"
It's a bad day for Batman.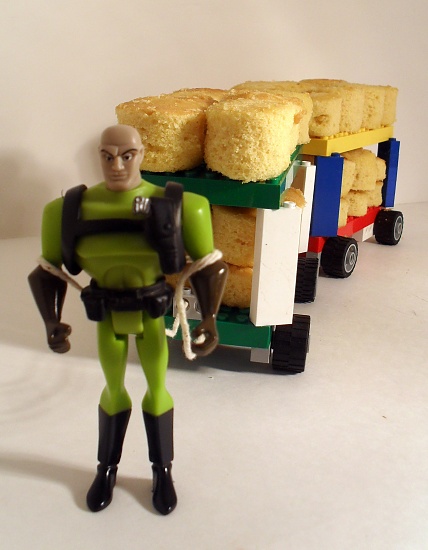 When no one was looking, Lex Luthor took forty cakes. He took 40 cakes.
That's as many as four tens.
And that's terrible.
Lex Luthor is a *bad* boy.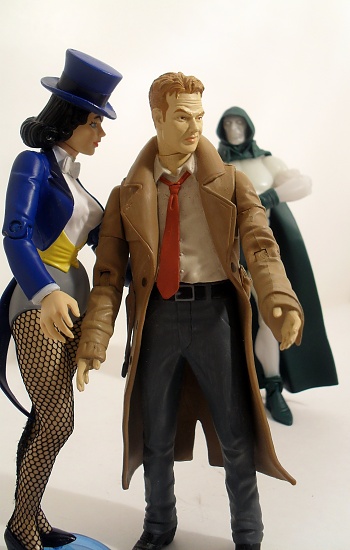 "...so I told the Spectre he could sod off out of...
....bloody Hell; he's standing right behind me, isn't he?"

Why you should never gossip about powerful mystical beings.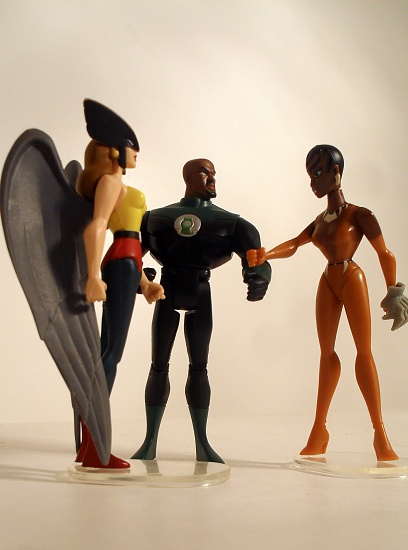 "My sock drawer? Ok...this is awkward."


Green Lantern as unwilling referee.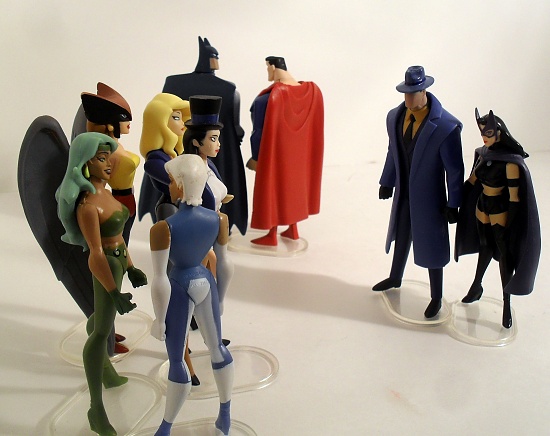 Huntress: "You're honestly discussing who has the best butt, Batman or Superman?"
The Question: "One, everyone knows Batman is the fan favorite. And two, the guy in red can *hear* you."

The Question sets the record straight.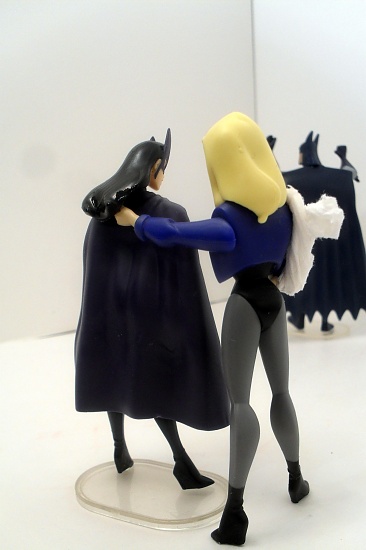 "Just wait until Catwoman finds out."

A scene from Birds of Prey; after Black Canary kisses the Batman!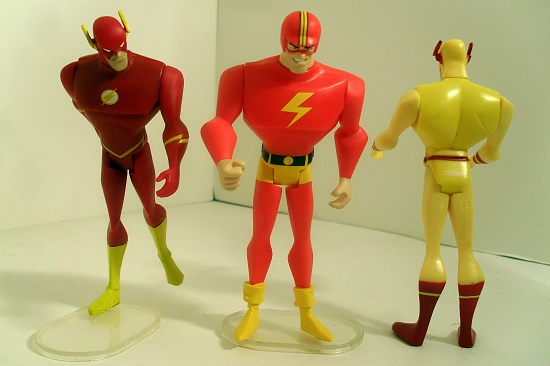 "On your mark, get set..."

The Speedsters face off.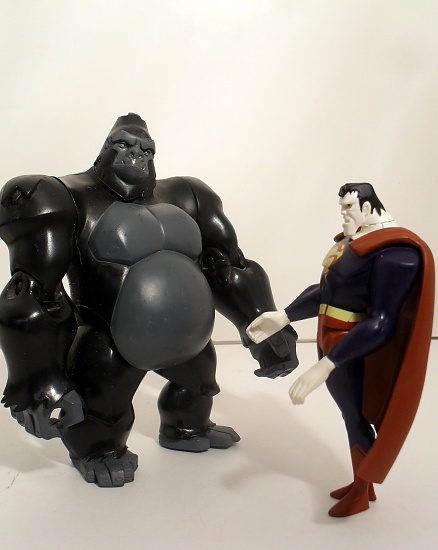 "No, you imbecile. 'Q' is *not* a number between one and ten!"

Grodd gets frustrated.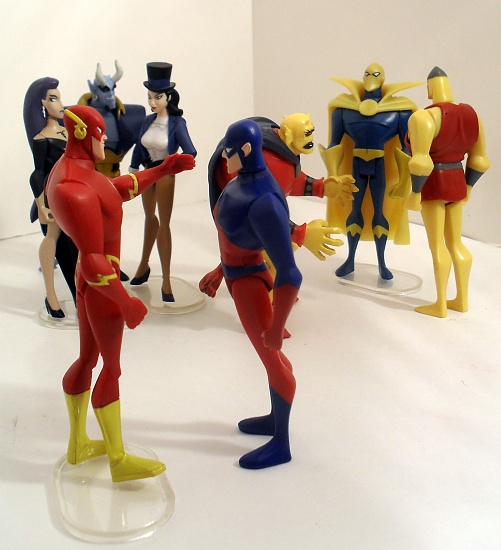 "Oh! Mathematicians...I thought you said 'Wally, we need a group of *magicians'! My mistake."

The Flash makes a tiny mistake.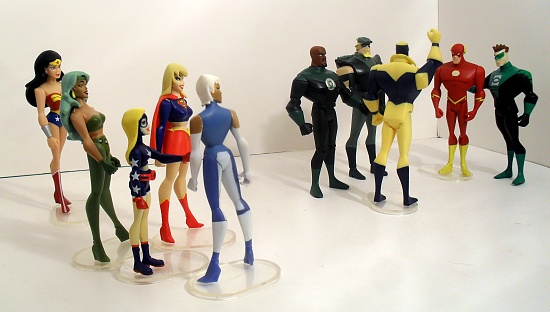 Booster Gold: "Yes! They are *totally* checking out my butt."

The ladies like what they see.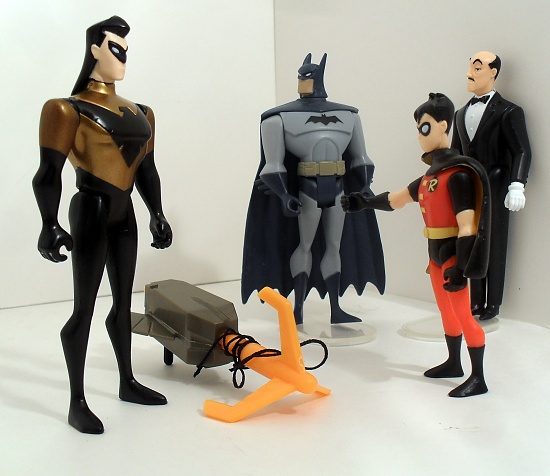 Nightwing: "What are you laughing at, Tim?"
Robin: "The costume, the hair, the 'I'm overcompensating' weapon...take your pick."
Nightwing: "Bruce?"
Batman: "He has a point, Dick."
Nightwing: "Thanks for the support."
Alfred: "It's always good when family gets together."

When the Bat clan gets together...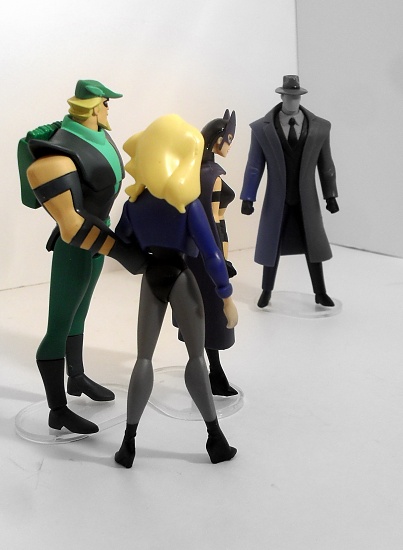 "I told you, Pretty Bird; the guy *always* has to make an entrance."

Ollie actually likes Vic. Honest.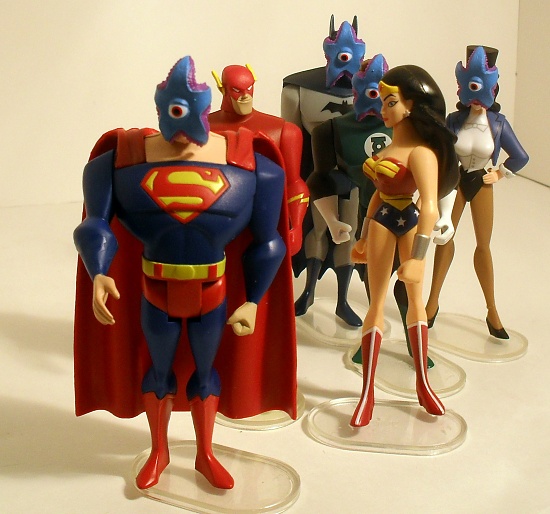 "Look Princess; I know I'm not the smartest guy in the room but I *think* we have a problem here."

Uh-oh; Starro!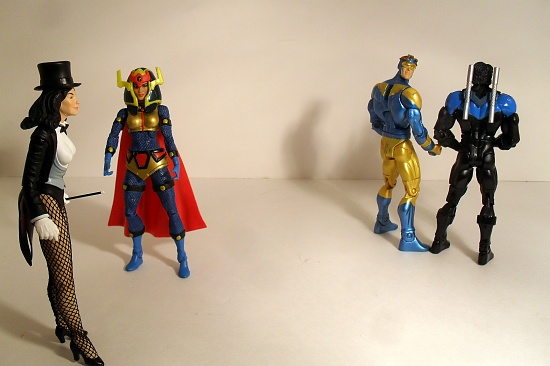 "Well, Zatanna? Who do you choose?"
"Come *on* Barda! Booster Gold or Nightwing? I knew him when he was in short pants!"
"You're the deciding vote."
"If Batman ever learns I broke the tie on 'Best Hero Butt' I'll never hear the end of it..."

Booster's butt is up for discussion again.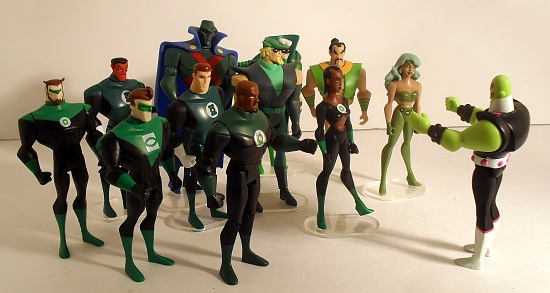 "All together now...It's not that easy being green, having to spend each day the color of the leaves..."

Green's a good color.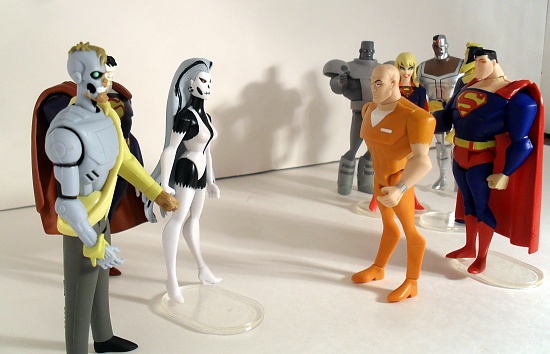 "When I hired you MORONS to break me out of prison, I didn't think I had to *specify* not telling the Justice League about the plan!"

It's so hard to find good help these days.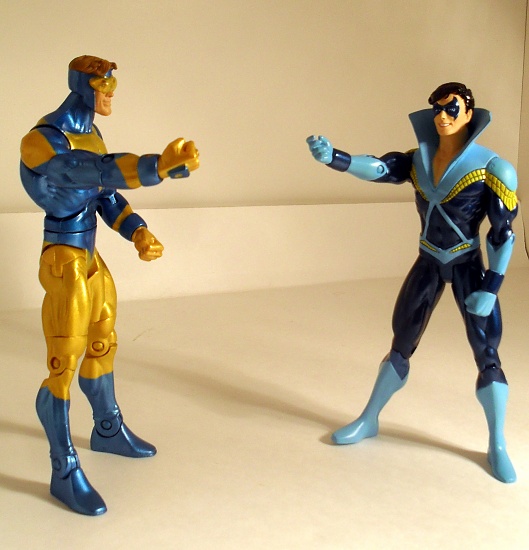 "I *love* your costume!"

Mutual admiration society.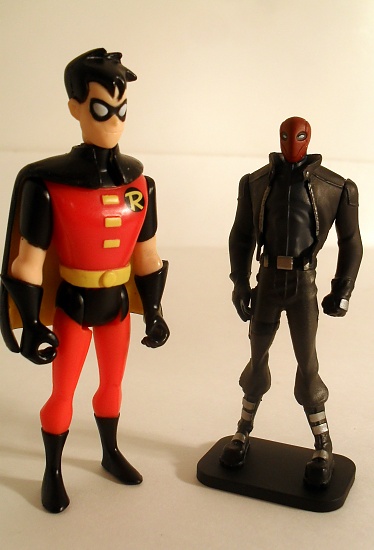 For the first time in his life, Tim Drake got to be 'the tall one'.

It's a Robin thing.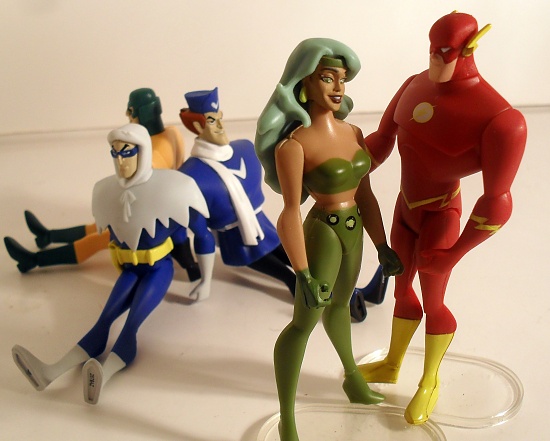 "Told you, I'm the fastest man alive. Now...how about that coffee?"

Flash as ladies man.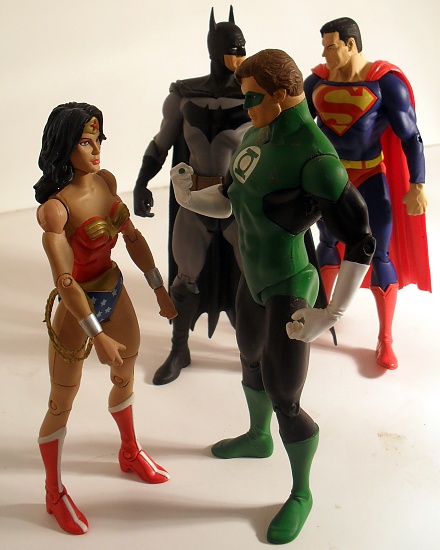 "Come on, Bruce. Hal's just telling Diana about his new movie."
"He's showing off. Again."
"It's not a big deal."
"...His film will make more money than *yours* did."
(beat)
"You know, Bruce, maybe the League should institute a no self-promotion policy."
(smirk)"

Batman knows best.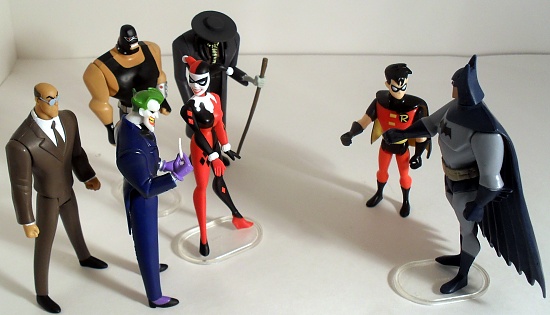 "Ok, Batman. *Now* can we call for back-up?"

Have faith, Robin.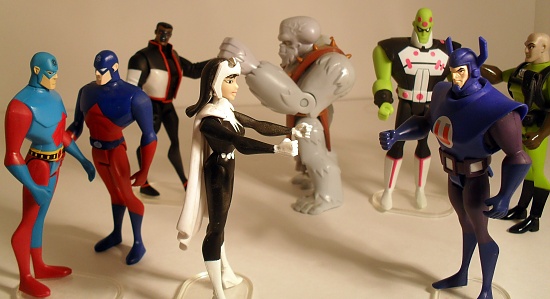 Atom to Atom: "Isn't this when Bats or Supes usually shows up?"
Dr. Light to Dr. Polaris: "That is the *last* time you'll call any woman 'chick'!"
Mr. Terrific: "Guys...a little help here?"
Luthor to Brainiac: "I don't care *what* level intellect you have--Do something!"

Not a fair fight?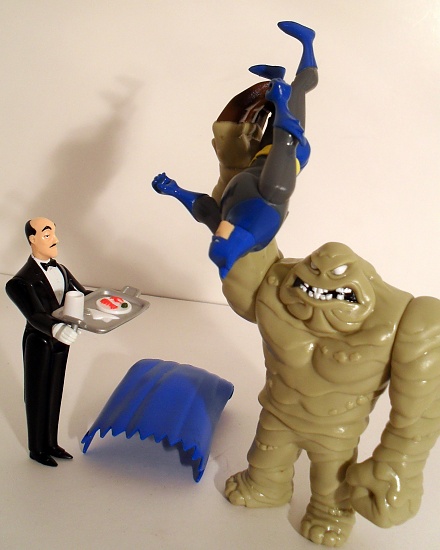 "I see you'll be late to dinner again, Sir. Shall I keep your plate warm?"

There's a reason everyone loves Alfred. And that reason is: he's awesome.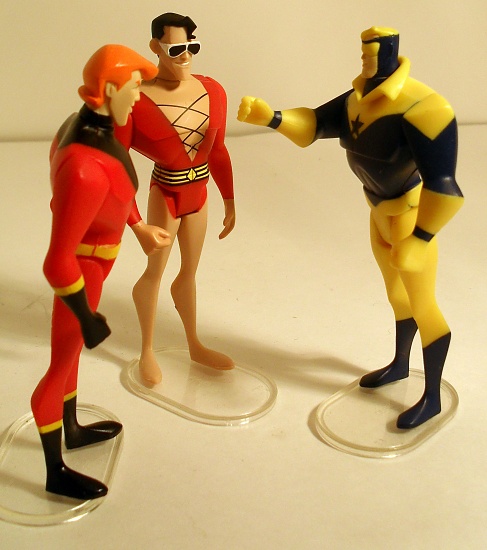 For the *last* time, I am NOT GREEN LANTERN!!

Poor Booster.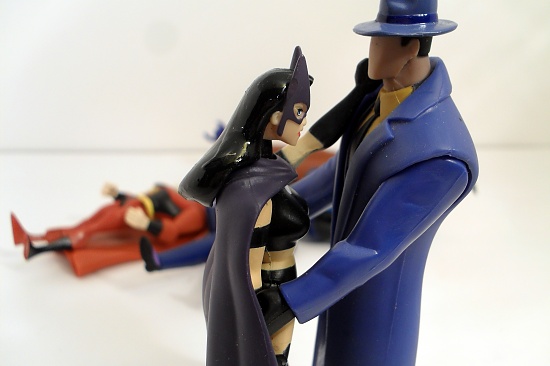 Leave a tender moment alone.

Huntress & Question. Must be love.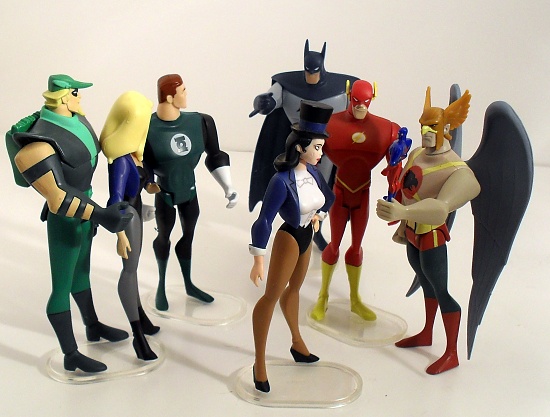 Divided we fall.

Identity Crisis, JLU-style.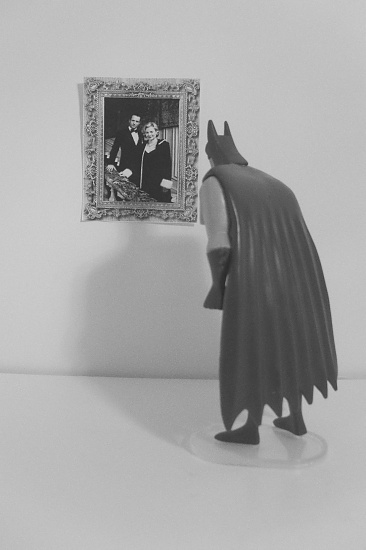 For Mom.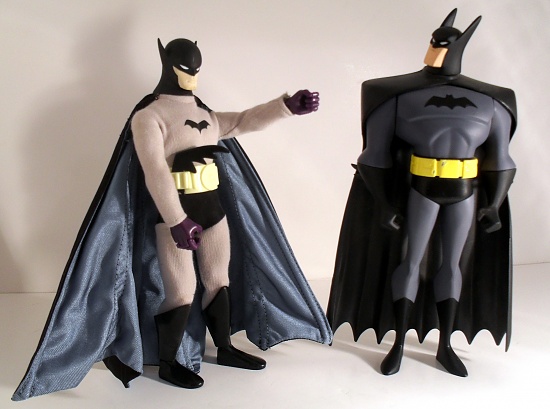 "You stole my look!" "I can't believe I used to wear that."

Bat vs. Bat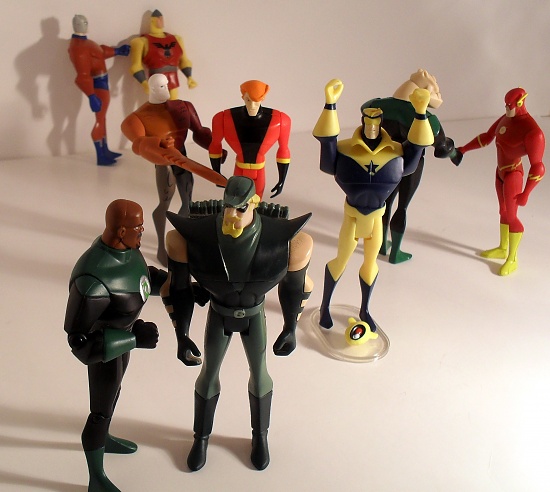 Green Lantern: "What's wrong, Ollie?"
Green Arrow: "I just wanted a night out, John. Got stuck with these guys. Where's Hal when you need him?"
Booster Gold: :"They like me! They really like me!"
Metamorpho: ":You said you locked your keys in your car!"
Elongated Man: "Rex, sometimes you scare me."
Kilowog: "What are you talkin' about, ya little poozer?"
Flash: "I've got two words for you, big guy: Bloomin'. Onion. You'll love it."
Shining Knight: "Arrow would not allow Winged Victory to accompany us; how will I reach this...bar?"
Orion: "Put your fears to rest. I have Mother Box."
Shining Knight: "You keep your mother in a box?"

Guys night.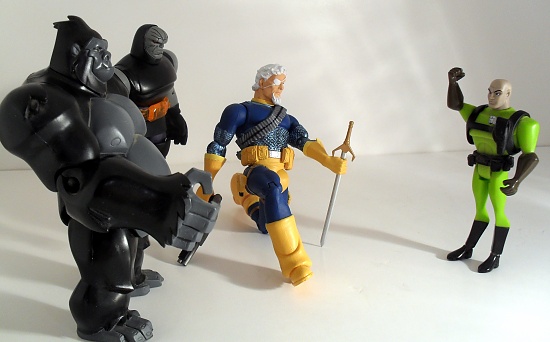 "THIS was your master plan? Stunt your children's self-esteem?"

Inside joke.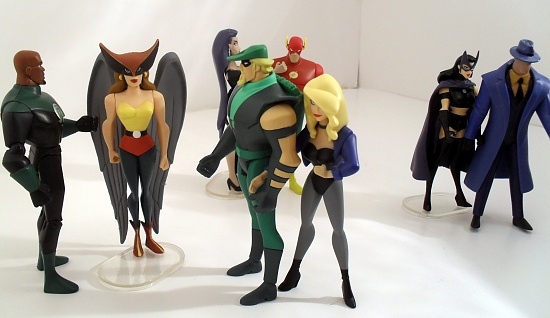 Date night in th JLA.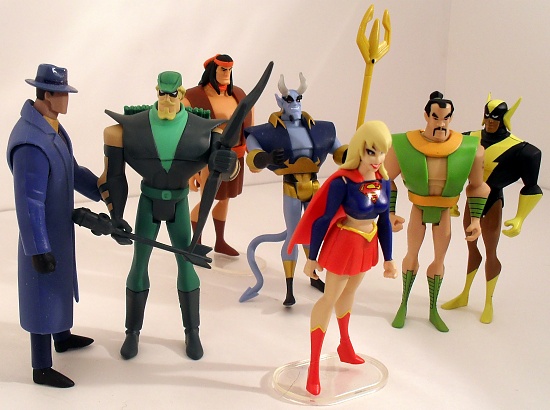 In the DC Universe, only white men get to wear pants.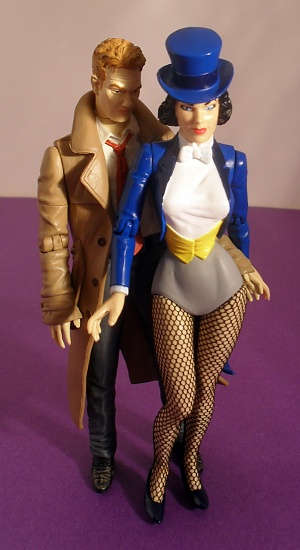 The Con Man & the Magician

Slipping into Vertigo territory.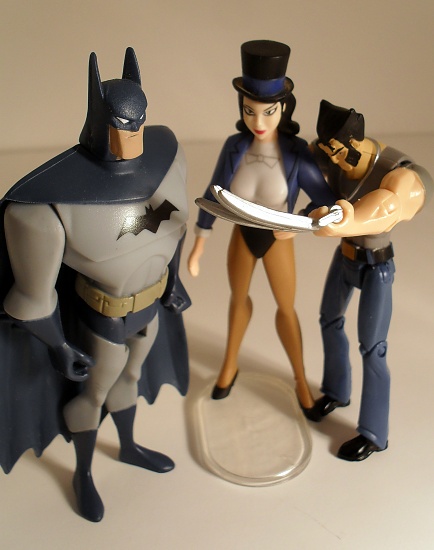 Actions speak louder than words.

Another inside gag.





"And I was like 'Paaaat, I don't need a chaperone!'. Do you know what it's like working with your step-dad?" "So...Batman, huh?" "Yeah. Batman."

Downtime on the Watchtower.



(2) idle chatter