Wednesday, November 02, 2005
Birth of a Radio Nation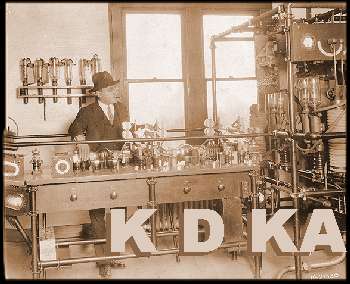 I'm proud to be from Pennsylvania. Not always proud to be from my
hometown
, perhaps; but a PA native, definitely.
It's a beautiful state, we have changing seasons (I, for one, don't mind the winter/cold), lakes and rivers (I am a most excellent canoe-er), amazing wildlife (my home county boasts a rather magnificent elk population); all kinds of things.
And of course, Pennsylvania is rich in history. I won't bore you with everything I learned in 6th grade PA History (Mr. Anderson, I paid attention!), but here's something worth noting: On this day, 85 years ago,
the very first scheduled radio broadcast in history
occurred. And guess where it happened?
Pittsburgh, PA.
The great KDKA was born, by giving election results live on the air.
I knew this of course, but a big thanks to Matt for pointing out the date to me.
Be sure to read through the history, there's some great stuff there. Like, "Why KDKA?":
Many people ask if our call letters "stand for" anything. The simple answer is: no. KDKA's license - - the first radio license ever - - was issued October 27, 1920. The call letters "KDKA" were assigned from a roster maintained to provide identification for ships and marine shore stations, these being the only regular radio services then in operation under formal license by the Federal Government. When it came time to finalize the license, "KDKA" was simply the next set of call letters on the list.
Or this one (and as a former radio 'personality', I almost wish it hadn't happened!):
Conrad began to get deluged with mail from amazed listeners who asked for more broadcasts, more of the music and information he was sending over the airwaves. So, Conrad announced that he would broadcast records for two hours a day on Wednesday and Saturday evenings. When he ran out of his own records, the Hamilton Music Store in Wilkinsburg became the first radio advertiser, by supplying records for airplay, in exchange for on-air promotion.
Also by visiting the
History
page, you can listen to the inaugural broadcast, as well as some of their jingles...a couple going
way
back!
Alex has a little electronic keyboard, with a gazillion functions. One pre-programmed button makes a little jingle that sounds very much like one of KDKA's...so I'm often walking around the singing "KDKA, radio".
Anyway, a little bit of history to share, and as it's from Pittsburgh, I'm particularly proud!